Who is A1 Mobile Truck & Bus Wash?
A1 Mobile Truck & Bus Wash Pty Ltd is the leading truck wash company based in Sydney, NSW. Established and operated since 2013, and only growing better and stronger.
We understand in the transport industry your fleet represents your Company, and a clean fleet equals a clean image. Finding the time and the labour to clean your trucks can sometimes be difficult – this is where A1 Mobile Truck & Bus Wash can help. We aim to save you time and money by coming to you, after hours and weekends.
Our prices are very reasonable. Hiring Truck Wash Experts to clean your vehicles can be very time consuming, A1 Mobile Truck & Bus Wash insures you we do what we do at our best every time. If needed we have licensed Truck drivers available on every Job to move trucks if required. A1 Mobile Truck & Bus Wash is fully insured with Work Cover NSW.
The Team at A1 Mobile Truck & Bus Wash have a combined experience in the market place, resulting in an expertise that encompasses all aspects of the commercial and industrial wash industry. Nothing is too big or too small. A1 will wash and clean almost everything. We take pride in our professional customer service.
We use high tech, superior cleaning products that are environmentally friendly, non toxic and bio degradable. We use state of the art mobile cleaning equipment that ensures you will receive the best result possible.
A1 Mobile Truck & Bus Wash has provided experience and dedication to its clients. We are prompt, professional and make the process as easy as possible for the client. Our mission is to keep your fleet clean and our environment green. We can wash over 30 truck combinations per day, from prime mover to B-Double combinations.
A1 Mobile Truck & Bus Wash professional cleaning staff and management team take pride in their work, which reflects on our workmanship and reputation. The quality of A1 Mobile Truck & Bus Wash work is second to none, which has enabled us to satisfy our customers and deliver the best result every time.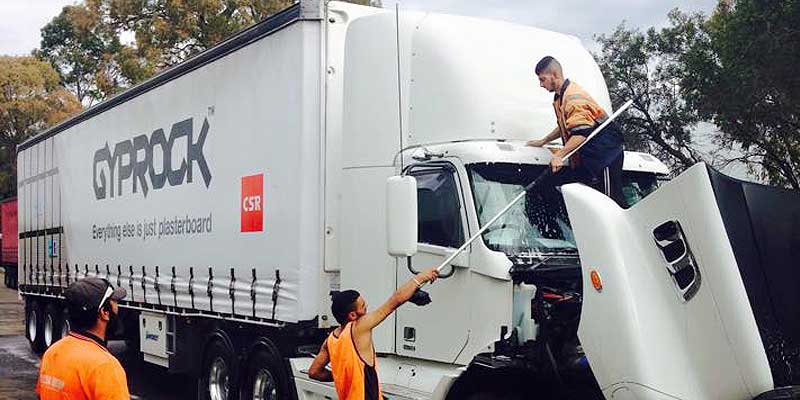 How we work
A1 mobile truck & bus wash also does full body detailing from waxing, polishing to buffing by hand, whether you own your own vehicle or are maintaining a whole fleet of company trucks, keeping it clean and well maintained benefits you in so many ways, whether it is keeping up a professional company appearance or ensuring a clean working environments.
Benefits using A1 Mobile truck & Bus Wash:
• A1 mobile truck & bus wash is environmentally friendly using non toxic, non corrosive cleaning detergents, specifically formulated for a wide range of surfaces including delicate and sensitive areas
• A1 mobile truck & bus wash detergents are Bio-degradable and Eco Friendly to our environment
• Our staff wear full PPE (gloves, glasses, hi-vis, safety boot)
• We have qualified drivers to drive the trucks around
• We are happy to comply to your OH&S rules
• We are fully insured
Our Mission
A1 Mobile Truck And Bus wash Pty Limited is committed to providing and maintaining a safe and healthy workplace environment for its employees, and visitors to the company's premises and work sites. To provide a service as if we owned the Truck or Bus.
Buses, machinery, industrial plants
Cranes, cherry pickers
Detailing
Earth moving machinery
Forklifts large to small
Polishing
Pantechs in and out to food grade
Prime movers
Rigid trucks of all shapes and sizes
Rubbish trucks bin & skip trucks
Tankers mini to massive
Trailers of all styles
Vacuum loading trucks
Occupational health and safety Certified