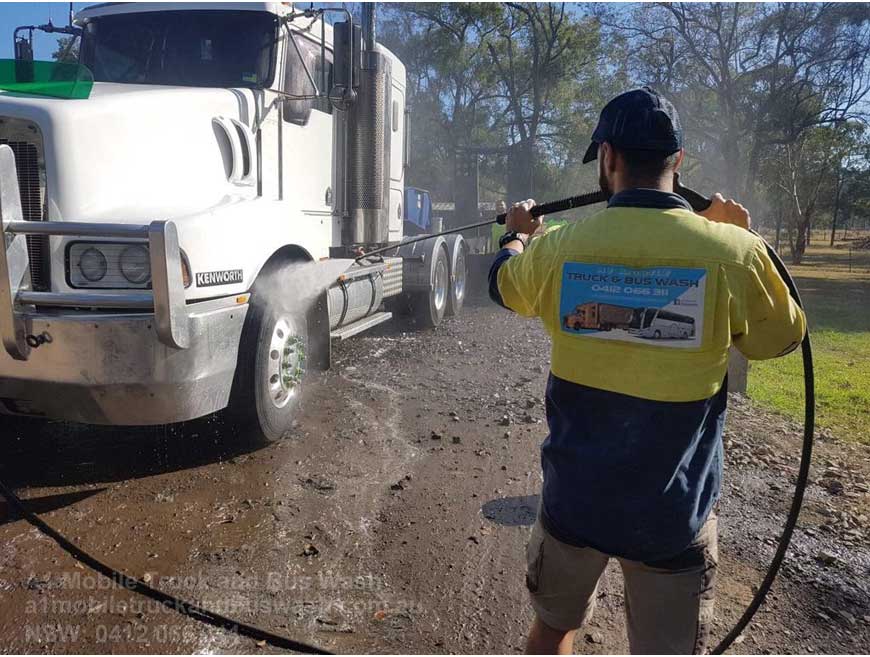 Why Washing Your Truck Or Bus Is Important?
One way to further reduce the total cost of ownership of your truck or bus fleet is to consider selling at the end of the lease. The market for used buses and trucks is growing, especially among owner drivers. But even with a growing market, a high resale value isn't guaranteed. So how do you maximize the resale value of your buses or trucks?
Consider top resale features when you are buying a truck or bus
Ironically, the best time to think about the resale value of your buses and trucks is when you are inspecting new vehicles. During this time, it's important to think not only about what features you would like to see on your new buses and trucks, but features that may be appealing to future buyers.
With safety and state-of-the-art features at the top of buyer's wish lists, consider inspecting features that will enhance drivers safety and add just a little extra buyer interest. Consider features like on board WiFi or safety features such as electronic stability control, collision avoidance warnings, fire-blocking seating materials or even seat belts. New features that you are excited about introducing to your own business will also be appealing to future buyers.
Carefully weigh your fuel options.
While there are a number of fuel choices to choose from, clean-diesel are still the most sought-after in the new and resale markets.
Clean-diesel is much cleaner that is was in the past. In fact, clean-diesel is 90 percent cleaner at the tailpipe than it was in 2006 and comparable to or even cleaner than other fuels types, based on EPA regulated emissions standards. Plus, with advances in engine technology, after treatment issues are becoming a thing of the past.
Clean-diesel engines remain proven, efficient and provide the lowest total cost of ownership over the life-cycle of a bus or truck when all factors are considered. Most important for the resale market, clean-diesel engines are durable and are built to run 15 to 20 years or more. That's why there is such a large resale market and they have strong resale value. Buyers know they can trust and rely on clean diesel.
Propane, gasoline and compressed natural gas school buses cannot be sold as easily because a large resale market just doesn't exist for other fuel types. Buyers in the resale market don't necessarily want to worry about new fueling infrastructure, additional technician and driver training, or running school buses that may need engine replacements in a few years. So, when considering the fuel option for your next bus purchase, consider a fuel type with a large resale opportunity on the back-end.
Buy a quality truck or bus to begin with.
Durability is what the resale market is looking for. Anyone buying a used vehicle wants the peace of mind that their new purchase will last for years to come without large maintenance investments. They are looking for a reliable engine with many more miles left on it, and body and components that will still provide value for many more years to come.
All brand-new buses or trucks may look like quality investments. But 10 to 15 years down the road, you may start to see variations in the fit, finish, durability and even structure among the various makes and models on your lot. And you may see huge holes in your maintenance budget, eaten away by extensive maintenance on one particular type of truck or bus, while the rest of your fleet requires minimal maintenance.
All school buses are not alike. While all must meet Federal Motor Vehicle Safety Standards, not all school buses are built with the same quality, reliability and durability standards. That's why when you buy a new school bus, it is important to partner with school bus manufacturers known for building quality, dependable and durable products.
Maintain your fleet – both inside and out.
As with buying a car, used truck and bus customers are looking for good-looking vehicles that have been properly maintained. And maintenance of the interior and exterior of the bus or truck is just as important as maintenance of the engine and transmission.
Keep the exterior of your fleet cleaned and waxed to preserve the finish. Also consider proper corrosion protection to protect the body, underbody and components on your trucks and buses if you are in an area that uses salt to deal with snow/ice. Keep the interior clean and maintained, especially the floor and seats.
Follow your manufacturer's maintenance schedule and tackle maintenance issues when they arise, before they become larger issues. By just following these basic maintenance protocols, you'll be protecting your investment and ensuring a higher resale down the road.
Consider the optimal age for resale.
Trucks or buses with only one to five years of wear can more easily be sold to other drivers or business at a higher price. While vehicles 10 to 15 years old are more often sold for scrap at a lower price. Unless they are well maintained. Weigh the pros and cons, and consider the optimal replacement age for your truck or bus fleet.
Tags:
bus wash
,
tips
,
truck cleaning
,
wash